PRODUCT REVIEW

We recently moved into our current residence over 2 years ago and have yet to completely finish decorating. I know, we're slow movers but we're just so busy reviewing products and holding giveaways for you all! =-) In all seriousness, we just haven't found the right items for our walls. I'm sure many of you are in the same boat. We thought of painting something nice but I did this last time and we moved...Sadly, I had to paint over it. =-(
I was recently introduced to Dali Decals from a friend of mine. She showed me a few pictures of what she ordered and what the Wall Decals looked like on her empty wall. It was amazing and completely made her room burst with fun and color. She had to add something to her child's room and she just couldn't decide. Luckily for her, she ran across this awesome item below...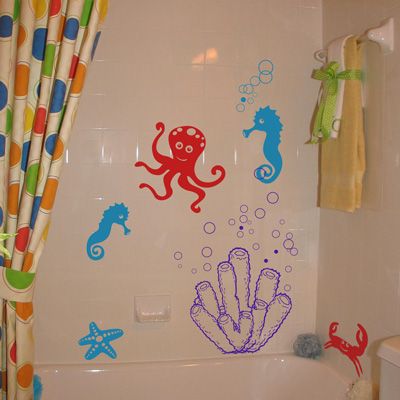 I was so jealous...doesn't it look awesome! Dali Decals was kind enough to allow me to order an item under $25 and I chose the set of 36 circles/bubbles (link to product). I had a little trouble with installation but their installation videos were just what I needed. I'm a visual person and just needed a helping hand...thankfully they were available! Here's what it looked like after we finished placing them on our dining room wall...
It really makes our dining room POP and everyone that has been over has complimented us on it. I'm really pleased with the outcome! Dali Decals are a great and inexpensive way to decorate your apartment, home, or whatever you live in! They also offer free shipping on orders over $50 and they are currently giving away a Breast Awareness Cancer Ribbon Decal with every order. How great! With the holiday's around the corner, I will be ordering a few of these for my brother and parents.
Interested in learning more?! Follow Dali Decals on Twitter and Fan them on Facebook. You will receive updates and various offers (discounts, etc).
Use the Coupon Code MuchMore5Off when shopping at Dali Decals and you will receive $5 off your order! Note: The Coupon Code expires on November 8th, 2010!
GIVEAWAY INFORMATION
Win It!


(1) Grand Prize Winner will receive a $25 gift certificate from Dali Decals to use on their website!
MANDATORY ENTRY
Visit Dali Decals and browse through the Wall Decals
Leave a comment letting me know which Dali Wall Decal you'd choose
Please leave your email address in the comment or make sure you have one in your Blogger Profile
OPTIONAL EXTRA ENTRIES
These extra entries are very helpful in winning! Also, for each extra entry, you are required to leave a comment! I do check these extra entries so please leave me the required items!

*NEW* (1 entry per Giveaway) Enter my other Giveaways
(Leave the Giveaway Name)
(1 entry) Publicly follow us on Google Friend Connect
(Leave your Google Friend Connect Username)

(1 entry) Friend us on Facebook and 'Like' this giveaway!
(Leave your Facebook Profile Link)
(1 entry) Follow Freebies and Much More on Twitter and ReTweet the text in red below!
Daily retweets are allowed and encouraged!
(Leave your Twitter Username and the Twitter Link)
Spice Up Your Home with Dali Wall Decals! Win a $25 Gift Certificate @FreebiesGalore (Ends 10/23) #Giveaway #Decorating
(3 entries) Subscribe to our newsletter via Email
(Be sure to confirm and leave 3 comments)
(5 entries) Post about this giveaway on your Blog or Website
(Leave the Link to your Post and leave 5 comments)

(5 entries) Add my "Organic or Bust" Event button to your blog or post about the upcoming Event (Click here for Event Details)
(Leave the Link and leave 5 comments)
GIVEAWAY RESTRICTIONS
All entries must be in by 10/23/2010, 11:59PM EST
US/CA, 18+ (NO PO BOXES)
CHOOSING THE WINNER
From the entries that I receive, I will use Random.org to draw the first name of the winner. I will announce the first name of the winner in a new post on
Freebies and Much More
and on
Twitter
. I will also contact the winner by email (be sure to give me one you check daily). If I do not hear back from a winner after 48 hours, I will draw a replacement by using the same method as above.
FTC Disclaimer: I received the above giveaway item for my review. I was not compensated monetarily for the review. All opinions expressed in the review are my own!