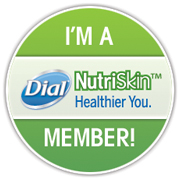 Last week, I posted about being selected as one of only 100 people from across the country to join the elite Dial® Healthier You Member Program. I'm still super excited about this opportunity and today is the start of my Dial Diary Updates.
I'm a huge exercise and health fanatic. I enjoy working out daily and eating healthy but sometimes it's an uphill battle. I work an 8-5 job and coming home to a family makes me want to eat something quick. I've learned to roll with the punches and have been preparing meals on the weekends. It really has helped out my routine and my body. With winter getting closer by the day, I'm getting nervous about my daily routine. I had the opportunity to ask Amy Hendel, author of 4 Habits of Healthy Families, if there is any research on Weather affecting a person's weight? Example, summer = warm weather = outdoor fun and winter = cold weather = indoor time.
Her response was:
I will tell you that weather seems to affect some people's appetites, making them less hungry in the summer because warm weather does not go well with heavy meals or a very full stomach - being overly full just doesn't feel good for some people when it's very hot. If we look at outdoor athletes, they often like the change of taking their routines indoor during harsh winter months. We also know that working out in the fresh air, exposes us to sunlight which does raise our endorphins and make us feel especially good after a workout. Some people do use inclement weather as an excuse NOT to exercise, however, there is Fit TV, online classes you can follow, DVDs and of course indoor gyms - so there's no excuse not to exercise year round! :)
I used to be one of those people that used inclement weather as an excuse NOT to exercise, but after buying a weight bench for the house, I won't be able to use that excuse anymore!
Now that I'm a member of the Dial® Healthier You Member Program, I've promised myself to stay focused and on task. I want to follow the weekly plans from Amy because it's important to me. For Week 1, Amy is helping us focus on improving our skin and overall health. The topic for Week 1 is called
Skin Healthy Foods
and there is a great video to help you understand more about the foods you SHOULD be eating. I will be including flaxseed into my diet during the next few weeks and hopefully I can find some great recipes to spruce it up. Do you have a great flaxseed recipe you don't mind sharing? Please let me know...
Thanks for reading and be sure to check back weekly!