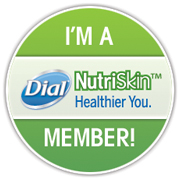 I am proud to announce I have made it to Week 2 of the Dial® Healthier You Member Program. Week 1 was about Skin Healthy Foods and I passed with flying colors! Improving our skin and overall health is very important in living a happy, healthy, and positive life. It's all about the quality of your life...why not make it great!
Week 2 introduces us to Exercise...ohh ahh. For some, this can be a scary word. Don't be one of those people who is scared away by exercise. I know, you're too busy or too tired...but you'll thank me after you get off your seat and bounce around for 10 minutes. I mentioned in Week 1 that I was going to incorporate
flaxseed
into my diet. Well, I did and it's actually a great addition to my morning oatmeal, my afternoon salad, and my evening helping of vegetables. I've really grown to love the nutty flavor of flaxseed. It has also helps fuel me through my exercise routines.
Amy Hendel, the Dial® Healthier You program expert, offers some great tips on how to exercise without equipment. I've taken to the speed walking bursts. Other walkers get a kick out of me flying by them. I'm glad I can make them smile! Plus, it helps my heart rate increase which means I'm doing good things for my body....I love the tips Amy! Keep them coming! For all of those that didn't make the final cut, don't worry, you can join us too! Just visit
this link
and click the play button under the movie. Until next week!