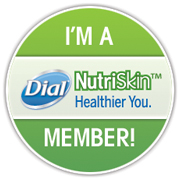 Here we are at Week 3 of the Dial® Healthier You Member Program. This week is going to be fun since it's all about Skin Care! Living in Florida means that the sun is almost always shining and that if you don't have suntan lotion on your skin, you're in trouble. Flashback time...when we first moved here, we took a weekend and visited the beach closest to our home. The weather was 70 with a slight ocean breeze and a few clouds. I only put suntan lotion on my face. WOW! What a mistake. Every part of my body except my face was red...OUCH!
I've since learned my lesson and always have suntan lotion in my carry-along bag. I have a bottle in the car as backup. I use SPF 50 but this stuff can be really hard to clean off. Especially after layering it on multiple times a day. In comes Dial® NutriSkin™ to save the day. It's a wonderful product that cleanses and moisturizes in one step. Plus, you can choose from two scented flavors: Grape Seed Oil & Lemongrass or Cherry Seed Oil & Mint.
Amy has a great tip this week...drink water and continue eating plenty of fruits and veggies to keep your skin well-hydrated! I love the tips Amy! Keep them coming! They really do make a difference because sometimes we forget to drink water. If you get busy, stop and reflect on what you weren't able to do!
For all of those that didn't make the final cut, don't worry, you can join us too! Just visit
this link
and click the play button under the movie. Until next week!